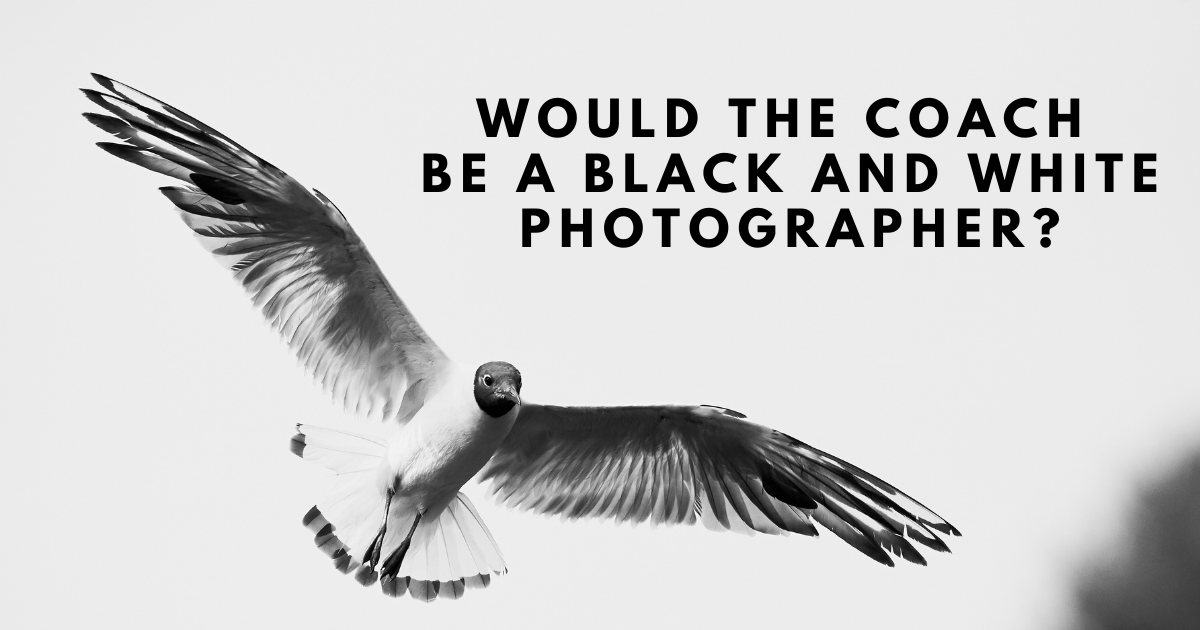 I'm a coach, it's my job and I'm passionate about it. I am also a photographer; amateur certainly but just as passionate.
So here are two passions: contradictory, complementary or … indifferent to each other?
Ted Grant, the father of the Canadian photojournalist, said: "When you photograph people in color, you photograph their clothes. When you photograph people in black and white, you photograph their souls. »
Would the coach be a black and white photographer?
1. But to start with, a little news and current events:
Among the new trends in Coaching, both in France and abroad, we find the development of niche coaching: and there, there is already a "new" profession, coaching for photographers! Confreres have specialized in the accompaniment of photographers (professionals I suppose). Interesting, of course. Fun, for sure. But beyond the anecdote, specialization in our profession is a heavy trend to consider.
In parallel and more surprisingly, it seems that there are now service offers from "Photographers for Coaches" (true story). The circle is closed and at least these two professionals will be able to barter: if you coach me, I'll shoot you a few portraits and vice versa.
In the news, more seriously, since the pandemic and the changes in behavior it has introduced, both professions have the same "concern" (understatement…): customers understand less the added value of a professional. Social networks have taken over in 2020 and between the fashion effects and the multiplication of pixels on our mobile phones or tablets, everyone proclaims themselves a photographer. The same is true for coaches: at the end of the pandemic, it seemed that anyone, without a base, experience, diploma, or qualifications, could proclaim themselves a coach. But this is a topic that deserves to be dealt with in another article.
2. In theory, the analysis of an image (or our client) is done through an approach that can be divided into three steps:
– Objectively describe what you see.
– Contextualize: what we know about the image or the client.
– Interpret but do not criticize what is deduced from the two previous elements.
With this in mind, the coach and the photographer must be sensitive (from 1600 to 3200 ASA) and passionate, it is a minimum. But they must also be benevolent with their subject, in front of whom they both pose as observers.
Together they ask themselves the essential question: how to best approach the subject, how to "treat" it, how to "frame" it, how to "make it stand out", how to help the elements in front of them to present themselves in the best way, or the most original, or why not the most absurd… but always waiting for a result that transcends the subject while giving him back control.
And in the vocabulary of image and coaching, only similarities: analysis of the depth of the plane (foreground, foreground, background), but also context or plans-scenery (general, wide, or overall plan), which embraces a wide field of vision.
And they can choose at any time to change their angle of view: the coach will be able to perform a 360 where the photographer will take a panoramic view, while keeping an eye in the viewfinder.
They use different lighting, change the framing, highlight the contrasts, and focus on the session… and should not forget, if they use filters, to take them into account when observing the subject.

Finally, they take care of the resolution by avoiding saturation. Decidedly these two were made to get along: so much the better, otherwise it was schizophrenia!
Related Posts